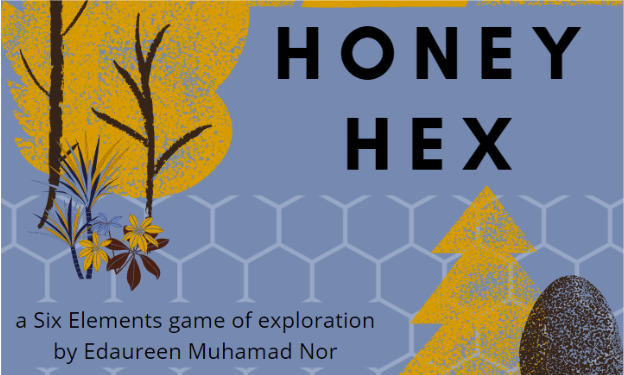 Honey Hex
Honey Hex
A Game Of Exploration For 1+ Players
by Edaureen Muhamad Nor
***BUY YOUR PHYSICAL COPY NOW AT BACKERKIT!***
Do you have what it takes to scout the Honey Hex for Queen and Hive?

Take on the role of a Royal Messenger, tasked with delivering a supply of honey from your sovereign to the ruler of a friendly queendom. Along the way, explore this unknown-to-you territory, gathering information and new nectars and pollens for your home. But beware: not every queendom is as easy to navigate as your home realm, and may harbor dangers beyond your imagination...
Honey Hex is a solo game of exploration and optional journaling by Edaureen Muhamad Nor. While the game as written was designed for a solo player, it is easily expanded for multiple players working either cooperatively or competitively. It is also highly replayable, with an optional campaign mode that allows you to expand on your Messenger's story the more you play.
Based on the flexible, dynamic Carta system by Peach Garden Games, Honey Hex is a storytelling/board game hybrid that can be played in any setting of the players' choosing. Whether it be pastoral fantasy, space opera, high magic swords & sorcery, or Weird Western, the possibilities are limited only by players' imaginations.
Using a standard deck of playing cards plus jokers, a six-sided die and various tokens, players will create and explore fantastic foreign realms while trying to deliver valuable cargo -- in the form of action-boosting honeys -- to foster good relations between your queendoms. Players will determine the supplies they bring with them at the beginning of each game, in hopes of not needing to break into the Royal Cargo to survive.
Each game can be played in about 30 minutes to 1 hour per player, running longer depending on the amount of journaling you wish to do.
Note From The Author: I was inspired to write Honey Hex by my growing interest in bee conservation. I'm hoping this game will inspire others to learn more and do more to help the local pollinators who do so much for the global food supply. In keeping with these aims, for every copy of Honey Hex I sell, I'll be donating 10% of the sale price to the National Wildlife Federation (https://www.nwf.org/) or similarly appropriate charity, calculated quarterly and rounded up to the next dollar.

Purchase
In order to download this game you must purchase it at or above the minimum price of $8 USD. You will get access to the following files:
Exclusive content
Support this game at or above a special price point to receive something exclusive.
Community Copies
Thanks to the generosity of Kickstarter backers, we've been able to add a huge amount of copies to the Community pool! Please take a copy if you can't afford the purchase price. Every purchase at full price or higher adds another to the Community pool.
Download demo