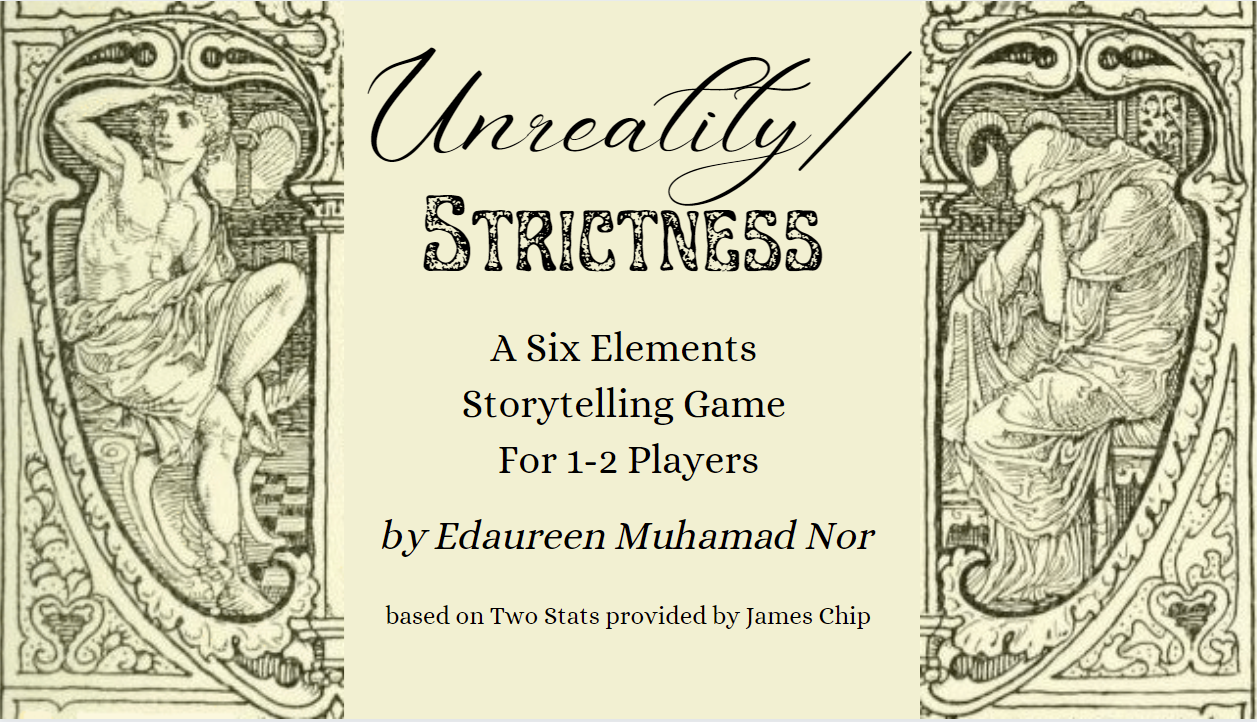 Unreality/Strictness -- The Single-Page Version
Unreality/Strictness
A Six Elements Storytelling Game
now for 1-6 Players
by Edaureen Muhamad Nor

In This dimension, you are a prisoner to the rules that dictate your life.
In That dimension, you are a nigh-omnipotent being facing rebellion.
When you find a way to connect these two selves, you tap into powers that could solve all your problems... or leave you even worse than where you started.

Unreality/Strictness is a role-playing game where you create a character who exists as two connected entities in separate dimensions. In This dimension, you are ruled by Strictness. In That dimension, you rule by Unreality. When you discover your connection, you realize that you can channel the plentiful Strictness or Unreality of the other dimension to help you either bind obstacles or warp them to your will.

In the single-page version, you may play this as a solo journaling game with one person playing both entities, or assign one entity to each of two players for a duet storytelling game. You will need a six-sided die (d6) or online equivalent to play, as well as a way to keep score. You may also want a method to document your game, especially if playing solo.
The framework added in August 2022 expands the game for up to 6 players, in anticipation of a Ruled By/Rule SRD and a full-length version in the coming months.
The single-page version of Unreality/Strictness was created for the Tiny Tome Single-Page RPG Jam. A Framework For Justice was written for the TTRPG Bundle for Abortion Access and Reproductive Rights.
Unreality/Strictness was inspired by the Two Stats generator created by James Chip.
Purchase
In order to download this game you must purchase it at or above the minimum price of $4 USD. You will get access to the following files:
UnrealityStrictness A Justice Framework.pdf
651 kB
UnrealityStrictnessAJF20220818.txt
8 kB
Exclusive content
Support this game at or above a special price point to receive something exclusive.
Community Copies
Please take a copy if you can't afford the purchase price. Every purchase at full price or higher adds another to the Community pool.